NOTIMP - NOTICIÁRIO DA IMPRENSA
Acompanhe aqui o Noticiário relativo ao Comando da Aeronáutica veiculado nos principais órgãos de comunicação do Brasil e até do mundo. O NOTIMP apresenta matérias de interesse do Comando da Aeronáutica, extraídas diretamente dos principais jornais e revistas publicados no país.
NOTIMP 185/2021 - 04/07/2021

SP`S AVIATION - Progress of C-390 MillenniuM in Brazilian air forCe
The entrance of the Embraer C-390 Millennium into the Brazilian Air Force comes at a crucial moment where air forces and governments seek to update their airlifter fleet and to incorporate aircraft with modern technology
By Sp's Correspondent | Publicada em 03/07/2021 06:00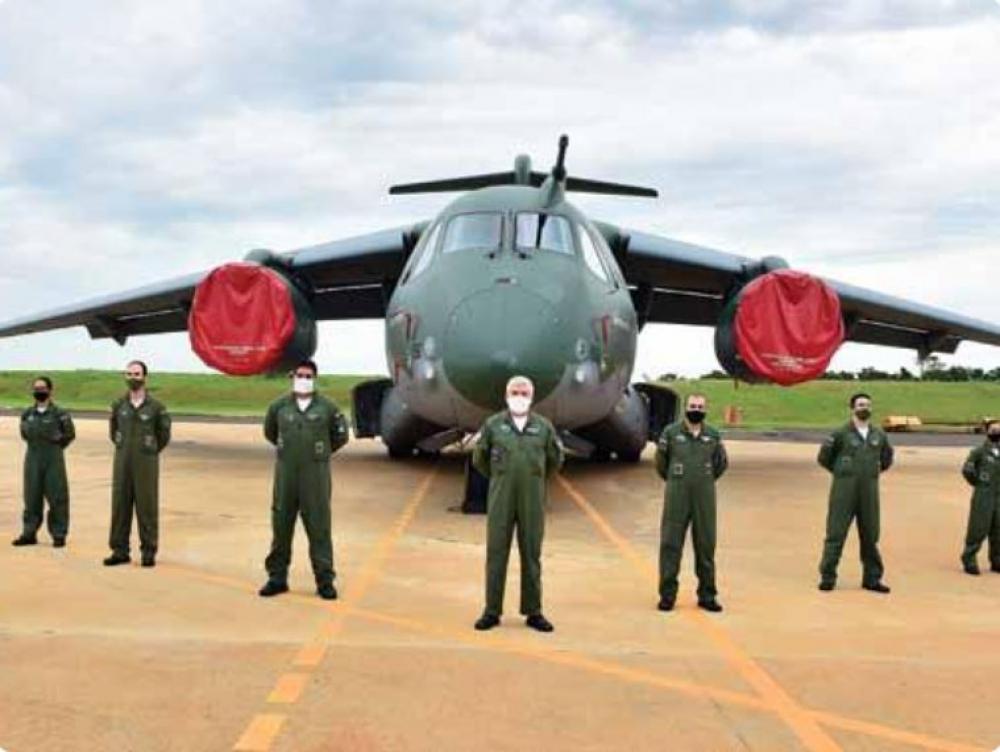 SINCE ITS FIRST DELIVERY TO THE BRAZILIAN AIR FORCE (FAB)
in 2019, the Embraer C-390 Millennium multi-mission aircraft has been proving its capability, reliability and outstanding performance on domestic and overseas missions, including a joint operational exercise with the US Air Force at the start of this year. The Brazilian Air Force's current fleet of the Embraer C-390 stand at four and these aircraft have exceeded 2,500 flight hours in operation, including its extensive use in operations to transport equipment and medical supplies across the country urgently needed to address the COVID-19 situation in Brazil. In the first three months of 2021, the Brazilian Air Force's C-390 fleet undertook more than 75 missions, clocking in 500 flight hours and an impressive mission completion rate of 99.7 per cent.
INDUCTION OF THE EMBRAER C-390 MILLENNIUM IN FAB
On September 4, 2019, Embraer delivered to the Brazilian Air Force (FAB) the first multi-mission airlift C-390 at a ceremony held at Anápolis Air Base, starting preparations for the air-the C-390 is CaPaBle of transPorting Cargo anD trooPs for a wiDe array of Missions liKeMeDiCal evaCuation, searCh anD resCue, huManitarian searCh anD resCue, aerial refueling, fire-fighting anD assistanCe. craft's entry into service by FAB's First Troop Transport Group (1st GTT). Embraer has been conducting theoretical and practical training with the Air Force teams to start operations.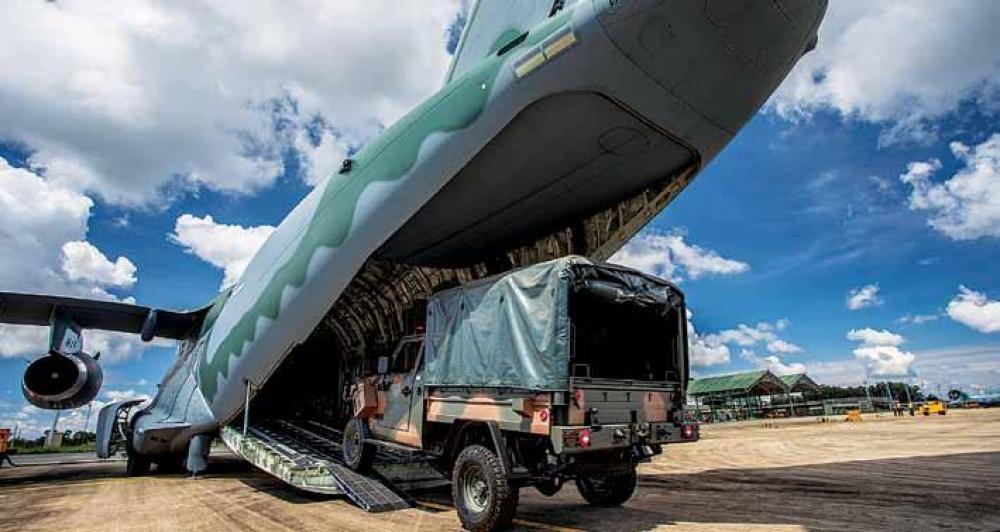 The programme represents a significant advance in terms of technology and innovation for the Brazilian aeronautics industry and an operational improvement for FAB's transport aviation. In 2014, FAB had signed a firm order for 28 units of the C-390 aircraft and initial logistical support. The aircraft are produced at the Gavião Peixoto factory, in São Paulo state.
"The incorporation of the C-390 into the Brazilian Air Force is a milestone in military aviation. Its modernity will bring an implementation and improvement in the doctrine of use of this multimission vector, greatly contributing to the fulfillment of the mission to control, defend and integrate the 22 million square kilometers under our responsibility", said the Brazilian Air Force Commander, Lieutenant-Brigadier Antonio Carlos Moretti Bermudez.
"The entry into service of the C-390 by FAB represents an important milestone for the program and it will certainly increase the growing international interest for this aircraft, consolidating the path to new sales", said Jackson Schneider, President and CEO of Embraer Defense & Security. "We are confident that the C-390, in addition to successfully fulfilling the missions required by our Air Force, will have a positive economic impact on job creation and new investments in Brazil, as well as high value-added exports."
On December 13, 2019 Embraer delivered the second C-390 multi-purpose transport aircraft to the Brazilian Air Force (FAB). The jet, registered FAB-2854, took off from the manufacturer's headquarters in Gaviao Peixoto and proceeded to Anapolis Air Base (Wing 2), to be operated by the First Troop Transport Group. Embraer delivered the third multi-mission medium airlift C-390 Millennium in the series to the Brazilian Air Force (FAB) on June 29, 2020. Similar to the first two units delivered in 2019 and the additional 25 which will be delivered to the FAB, this third unit was prepared to perform aerial refueling missions and will be operated by First Troop Transport Group (1st GGT).
"Receiving the third C-390 Millennium aircraft is a matter of great satisfaction for the Air Force Command, because it will be supporting the missions already underway by the other two aircraft. The greatest example is the aircraft's use for the aerial transport of supplies and equipment for combatting and preventing COVID-19, within the operation coordinated by the Ministry of Defence, which represents an important initiative for Brazilian society," said the Brazilian Air Force Commander, Lieutenant-Brigadier Antonio Carlos Moretti Bermudez.
Embraer delivered the fourth C-390 Millennium multi-mission medium airlifter of a total of 28 units to the Brazilian Air Force (FAB) on December 19, 2020. Like the three units already in operation, the fourth airlifter will be operated by the First Troop Transport Group (1st GTT). All 28 aircraft ordered by FAB are equipped to perform aerial refueling missions. "We are very pleased with the delivery of the fourth C-390 Millennium to the Brazilian Air Force, as the airlifter has played an extremely important role in a series of humanitarian missions within the Brazilian territory and even abroad," said Jackson Schneider, President and CEO of Embraer Defense & Security.
In order to maximize the operational availability of the C-390 Millennium fleet in the fulfillment of various missions, FAB and Embraer Services & Support signed a comprehensive five-year services and support contract. Under the agreement, Embraer's portfolio of solutions TechCare will be responsible for logistical and engineering support, maintenance control, component repair, support staff for the aircraft entry into service, materials supply and an additional package that includes
EMBRAER C-390 MILLENNIUM: A TIMELINE
February 2015:first flight of the C-390 July 2016:first airshow debut at the farnborough international airshow; first international demo tour June 2017:second international demo tour September 2019: Delivery of the first C-390 to the Brazilian air force December 2020: Delivery of 4th C-390 to the Brazilian air force
2015 2016 2017 2019 2020 2021
October 2015:start of flight test campaign February 2017:air to air refuelling test: high speed – dry contact July 2019:sale of C-390 (air-to-air refueling configuration) to Portugal November 2020: sale of C-390 to hungary April 2021: aerial refuelling qualification between two C-390 Millennium. structural analysis, maintenance bulletin development and aircraft painting, among other services.
THE EMBRAER C-390 MILLENNIUM IN ACTION
Since the beginning of the COVID-19 outbreak, FAB has operated the C-390 Millennium aircraft in logistical aerial transport missions, carrying tonnes of essential supplies to fight the pandemic in Brazil. Additionally, FAB operated one of the airlifters in a humanitarian mission to the Republic of Lebanon, in support of the population of Beirut, in August of this year. Among other points highlighted by FAB in the use of the C-390 Millennium, the aircraft has been helpful in its ability to carry massive amounts of cargo, quickly, over long distances, with high dispatch reliability. As an example, the aircraft flew 2,690 kilometers, from São Paulo to Manaus, in less than four hours.
Beyond the COVID-related missions that the C-390 Millennium has been deployed for within Brazil, the Brazilian Air Force also operated one of the airlifters in a humanitarian mission to the Republic of Lebanon, in response to the explosions that took place in Beirut in August 2020. This again proved the capabilities of the C-390. In January this year, the Brazil Air Force's C-390 participated in Operation Culminating, in the United States. This was a real operational joint exercise where the Brazilian Army and the Brazilian Air Force took part alongside with the US Army and US Air Force. The Embraer C-390, C-130 and C-17 operated together for the first time during this joint exercise and both Air Forces were pleased with the performance of the C-390 and the results of the exercise.
THE GENESIS OF THE EMBRAER C-390 MILLENNIUM
A joint project between FAB and Embraer, the C-390 Millennium is a tactical transport aircraft designed to set new standards in its category. Some of the aircraft's strengths are mobility, robust design, greater flexibility, proven state-of-the-art technology, and easier maintenance. The C-390 is an investment in capability, with sophisticated systems, a unique design ethos and open architecture to ensure that any potential capability fade is mitigated. This multi-mission jet aircraft features a rugged design that withstands operations from semi-prepared and damaged runways, as well as harsh environments, varying from the hot and humid Amazon forest to the freezing Antarctic continent, as well as hot and sandy desert conditions.
This project was initiated because of the Brazilian Air Force's ageing C-130 fleet. Given its history of designing aircraft since 1969 and its success in designing, building, testing and entering service aircraft in the defence, commercial aviation and business aviation sectors, Embraer was more than up to the task. Over the years, Embraer has proven its track record of having its aircraft enter service on time and on schedule - sometimes even ahead of schedule. The C-390 Millennium fly faster and carry more cargo than other military freighters of the same size and are the ideal platforms for the main usage scenarios. The aircraft requires fewer on-demand inspections and maintenance, combined with highly reliable systems and components, which reduces the time on the ground and overall operating costs, contributing to excellent availability levels and low life-cycle costs.
The C-390 is capable of transporting and launching cargo and troops and performing a wide array of missions: medical evacuation, search and rescue, humanitarian search and rescue, humanitarian aerial refueling (fighters and helicopters), aerial fire-fighting and assistance. It has a modern cargo handling system which can transport large-sized cargo: pallets, vehicles, helicopters, troops, paratroopers, medevac stretcher, mixed configurations. The C-390's piloting is facilitated by an integrated avionic system and a fly-by-wire flight control and it can be equipped with a self-defence system and ballistic protection which increases its capacity to operate in hostile environments. In April, Embraer reached another important milestone in the development of the C-390 Millennium multi-mission military freighter programme with the successful conclusion of the
aerial refueling qualification between two C-390 Millennium, proving, for the Brazilian Air Force (FAB), this new operational capacity of the aircraft. The in-flight refueling capacity between two aircraft of the same model using inflight refueling underwing "pods" is unique in this category. This allows C-390 Millennium operators to expand their logistical transport capacity and during search and rescue operations, which increases the autonomy and range of their missions.
The demonstrations were conducted at Embraer's Gavião Peixoto site in flights with aerial refueling between two aircraft. Pilots and engineers from FAB joined the flights, when the excellent flight qualities of the airplane and the low workload for the crew were demonstrated as a result of the "fly-by-wire" system control laws, which were developed by Embraer specifically for the C-390. This multi-mission aircraft can be quickly configured for aerial refueling as both a tanker and a receiver aircraft. Day and night aerial refueling is made possible with observer windows and night vision cameras. The C-390 can be equipped with advanced refueling pods (Cobham 912E Series) that meet the high-performance criteria of the aircraft, providing a lightweight and efficient solution. Each pod provides fuel transfer of up to 400 US gallons per minute. Removable auxiliary fuel. tanks can be installed in the cargo compartment to expand the aircraft fuel offload capacity or range performance.
INTERNATIONAL RECOGNITION
Given its outstanding design and capabilities, the aircraft was handed the Grand Laureate Awards from Aviation Week, in the Defense category and the Laureate Award, in the category "Best New Defense Product," from Aviation Week magazine. The C-390 Millennium has been at major airshows such as the Farnborough Airshow, where it made its Airshow debut in 2016, the Paris Airshow, the Dubai Airshow, LAAD in Rio de Janeiro and has also visited several countries as part of its demonstration tour.
In addition to the Brazilian Air Force, the Hungarian Defence Force and the Portuguese Armed Forces have signed for the C-390 Millennium's multi-mission aircraft with air-toair refueling (AAR) configuration. The Hungarian government's acquisition of the multi-mission transport aircraft is part of the process to strengthen the capabilities of the Hungarian Defence Forces especially in the tactical airlift, AAR and medical evacuation roles, as well as in other missions of public interest. The aircraft will be the first in the world featuring an Intensive Care Unit (ICU) configuration, an essential feature for performing humanitarian missions.
The aircraft are also designed to refuel the Hungarian JAS 39 Gripen, as well as other aircraft using the same technology. These C-390 aircraft will be fully NATO compatible, not only in terms of hardware, but also in terms of avionics and communications configuration. Deliveries are scheduled to start in 2023. The Embraer C-390 Millennium's first international customer, the Portuguese Armed Forces (FAP) is due to receive its first unit of the aircraft in 2023. In October 2020, the Armed Forces and Embraer concluded the "Critical Design Review – CDR" for the C-390 Millennium ordered by Portugal. This step has defined the aircraft technical requirements according to FAP's demands. The five C-390 multi-mission airlifters that Portugal has ordered will support the operations of the Portuguese Armed Forces and increase readiness in missions of national interest. Given its performance, reliability and outstanding mission completion rates, we are confident that the C-390 will make a great impact in the airlifter market and add value to air forces and armies around the world.
WELL-SUITED TO TAKE INDIA'S ARMED FORCES TO A HIGHER LEVEL
Brazil and India share many similarities and many Embraer aircraft are operated in India across the commercial aviation, business aviation and government VIP transportation areas. The versatility of the Embraer C-390 Millennium makes it highly capable to operate in India, undertaking a range of missions across different terrains with a high reliability rate. The modern features of the C-390 and its impressive mission completion rate means that the aircraft can be part of a quick response team to address hostilities along India's vast borders it shares with seven other countries or within. As proven by the Brazilian Air Force, the C-390 is also able to be deployed rapidly to respond to emergency situations and humanitarian relief missions, triggered by floods, forest fires, earthquakes or COVID-like situations. SP. — With inputs from Embraer Defense & Security.
SP`S AVIATION - Brazilian Air force in War Against Coronavirus
By Rohit Goel | Publicada em 03/07/2021 06:00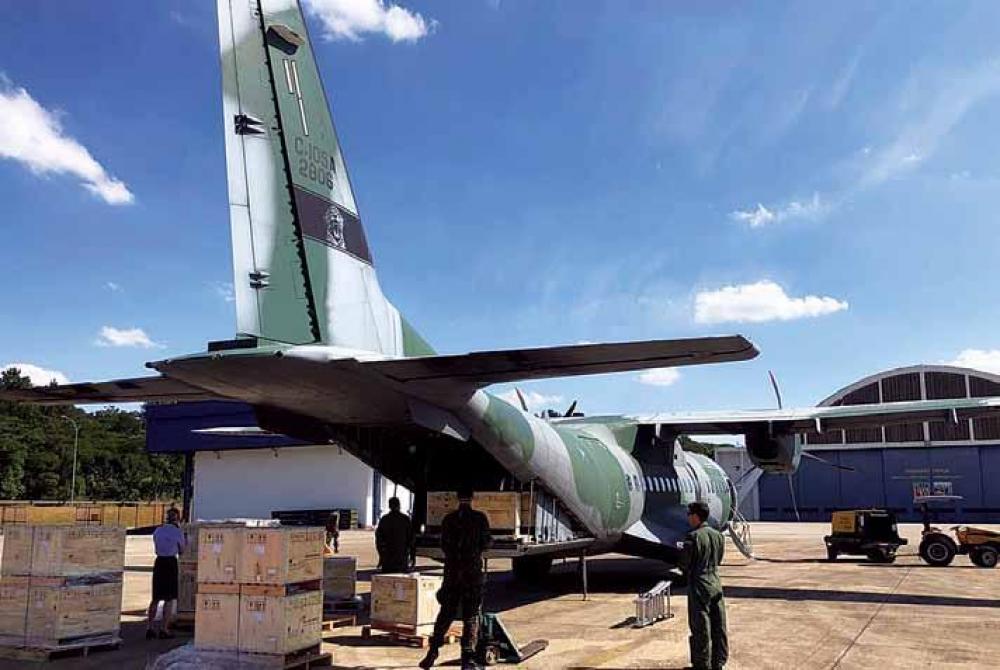 FAB is operAting round the clock For constAnt mission requirements oF providing support to BrAziliAns. For over a year now, each day, the Brazilian Air Force (Força Aérea Brasileira or FAB), represented by its men and women, bring the war effort into combatting the Coronavirus with great vigor and commitment. Overcoming all obstacles, during the entire period of this pandemic, men and women are working hard to fulfill the missions assigned to the Brazilian Air Force.
Nearly 18 months ago, when the year 2020 started, the Brazilian Air Force (Força Aérea Brasileira or FAB) did not expect to be fighting a real war against an invisible enemy that was taking over the world and Brazil. Demanding that men and women of the Brazilian Air Force (FAB) make efforts greater than themselves, FAB was asked to join Operation COVID-19, to bring relief to the country and deliver supplies across the whole nation in this arduous struggle against the ongoing pandemic.
Since then, FAB has been carrying the nation's hopes of better times on their wings every day. With a spirit forged for battle, the Brazilian Air Force has achieved more than 5,770 flight hours in missions to combat COVID-19 since the beginning of operations in March 2020. In all, 5,142 tonnes of supplies and equipment were transported, in addition to 877 patients and 6,400 people, majority being health professionals. FAB aircraft took vaccines to the most remote points of the country, carried thousands of tons of oxygen for people in the Northern Region and transported hundreds of patients waiting for medical help to several Brazilian cities. Even, Brazilian Air Force Olympic athletes were immunized against COVID-19.
While the use of aircraft by FAB could be seen by all, actions taken by the other organisations like FAB's logistics area, who took care of the infrastructure, procurement and logistical transport were also critical to the entire operations. From the time of Operation Return to the Motherland, which took place in February 2020, FAB has carried out several missions in Operation COVID-19 with the sole objective of minimising the impacts of the Coronavirus. Following are the missions that the Air Force has been carrying out since Brazil started to act in the war against the virus.
REPATRIATION OF BRAZILIANS
FAB placed two aircraft VC-2 available, in February 2020, to rescue 34 Brazilians and family members who were in Wuhan, China, epicenter of the new Coronavirus. In addition to the crew, the aircraft carried health professionals for monitoring the safety of these people. In April 2020, a C-130 Air Force Hercules was sent for the repatriation of 50 Brazilians who were in Venezuela. Then there was also the rescue of 66 citizens who were held back in Cuzco, Peru.
DISTRIBUTION OF MEALS
During Operation COVID-19, in May 2020, the Brazilian Air Force carried out production and distribution of meals for truckers traveling on the coast São Paulo. A structure was assembled for the preparation, storage and distribution of the food. The intention was to offer an option to truck drivers due to the restriction on delivery of food at service stations located along the highway.
MAKING MASKS
In an effort towards preventive care for COVID-19, thousands of masks of face protection were produced by military equipment specialists as well as in partnership with SENAI of Rio Grande do Norte. clothing and toiletries. With the isolation scenario due to the pandemic, many families were left in a vulnerable situation. The distribution of these kits was aimed at alleviating some of the main needs suffered by them.
TRANSPORT OF PPE KITS
Still in the first half of 2020, the Air Force completed several Air Transport missions carrying equipment of personal protection, among them, gloves, aprons, alcohol in gel, face shield type masks. The supplies destinations were the Health Departments of several states in Brazil to serve patients and also professionals from the frontline of combat to COVID-19. For the transport, the FAB employed aircraft like the C-130 Hercules, C-98 Caravan and C-105 Amazon.
DISINFECTION OF PUBLIC PLACES
The Air Force performed, throughout Brazil, disinfection actions and decontamination of public places like hospitals, ports, airports, aircraft, sights, schools and other facilities with the aim to reduce the transmission possibilities of the new Coronavirus.
SUPPORT TO INDIGENOUS POPULATIONS
The Brazilian Air Force (FAB) maintains support in Air Transport Logistics to carry out Civic Action- -Social in indigenous communities. In addition to the transport of personnel from Health departments and medical supplies, masks are also taken, protective coveralls, gloves, alcohol in gel, malaria Brazilian Air Force test kits and COVID-19, medicines and food baskets. Actions occurred through has achieved more the Air Force helicopters, capable of than 5,770 flight hours in missions to reaching distant and difficult places with no access for takeoffs and landings.
COMBAT COVID-19 BLOOD DONATION CAMPAIGN
since the beginning In September 2020, the FAB voluntarily promoted, within their Military organof operations in isations, a campaign to donate blood. March 2020 Objective was to encourage military personnel, civilians and dependents for blood donation, given the constant need of blood supply from centers all over the country for combatting the Coronavirus. More than 43,000 donations were made by military personnel.
SUPPORT WITH HEALTH PROFESSIONALS
Health professionals from the Brazilian Air Force, from more distinct specialties, working on the front line combatting the pandemic, have dedicated their attention and efforts in assisting victims of COVID-19. The command of the Air Force set up Cellular Health Units (UCS) - a kind of mini field hospitals - in the Rio de Janeiro (RJ), Natal (RN) and Campo Grande (MS), in the year 2020; in addition to 16 tents that served of wards at the Delphina Aziz State Hospital in Manaus (AM) and other UCS in mounted vaccination posts at the Aerospace Museum (MUSAL) and at the Air Base of the Galeão, both in Rio de Janeiro (RJ), in 2021.
PATIENT TRANSPORT
In January 2021, the FAB started to transport patients admitted to hospitals of Manaus (AM) to other parts of the country. The health system from that state faced difficulties and, to minimize the impacts, hundreds of patients were removed, on board C-105 aircraft Amazonas, C-99 and C-97 Brasília, to other cities.
SOLIDARITY CAMPAIGNS
During 2020, the FAB held campaigns for collection of food,
FAB – WINGS THAT PROTECT THE COUNTRY
LOGISTICAL AIR TRANSPORT
Data extracted until May 19, 2021
Source: Brazilian Air Force
Flight hours: +5,770
Tonnes of Loads: 5,140
Patients transporterd: 867
C-105 AMAZONAS Maximum Speed: 246 kt (457 km/h) Service Ceiling: 25,000ft (7,020m) C-390 MILLENNIUM Maximum Speed: Mach 0.8 (955 km/h) Service Ceiling: 36,000 ft (10,973 m) C-130 HERCULES Maximum Speed: 320 kt (593 km/h) Service Ceiling: 32,000 ft (9,754m)
C-98 CARAVAN Maximum Speed: 175 KT (324 km/h) Service Ceiling: 25,000 ft (7,620 m) V/C-99 Maximum Speed: Mach 0.78 (963 km/h) Service Ceiling: 39,000 ft (11,890 m) C-97 BRASILIA Maximum Speed: 328 kt (608 km/h) Service Ceiling: 32,000 ft (9,754 m) C-95M BANDEIRANTE Maximum Speed: 230 kt (426 km/h) Service Ceiling: 25,000 ft (7,260 m)
With the need to mitigate the lack of oxygen crisis the hub was transferred to the Air Base of Brasilia (DF) so that the aircraft can load and unload the tanks and proper distribution for the supply of oxygen to Manaus and other cities in the state can be ensured.
OXYGEN TRANSPORT
Still focused on service to the health system of the Amazonas, the C-130 Hercules, C-105 Amazonas and C-390 Millennium aircraft performed daily missions to Manaus (AM) and other locations in the state. The cargo on board was oxygen cylinders, liquid oxygen tanks and also oxygen plants. In one of these missions, in January 2021, the C-390 performed for the first time the transport of five tanks of liquid oxygen – about 5,500 kg of cargo – from the Base São Paulo Airline (BASP) to Manaus Air Base (BAMN), in the capital of Amazonas and to the city of Parintins, second city most populous in the Amazon.
RESPIRATOR TRANSPORT
As the pandemic spread throughout the country, the Ministry of Health, through the Ministry of Defence, requested FAB the transport of respirators to equip hospitals in the country. Transport Group Aircraft Special (GTE) and other aircraft, like the C-95 Bandeirante, participated in the Operation, taking and then distributing the equipment to hospital units throughout Brazil.
VACCINE TRANSPORT
After approval of the emergency use of the vaccine against COVID19 in Brazil and upon arrival of the first batch from India, at the beginning of January 2021, the distribution of doses occurred. Taking the input to the states, aircraft of the FAB started to fulfill several missions, with the H-36 Caracal and H-60L Black Hawk helicopters and the C-98A Caravan aircraft, which carried vaccines for indigenous populations and other residents of hard to reach locations. The Brazilian Air Force continues to operate around the clock to help those in need of support. FAB found a strong ally in the C-390 Millennium during Operation COVID-19. The new multi-mission aircraft fulfills, constant missions requested by the Ministry of Defence, providing support to Brazilians with transportation equipment, supplies, vehicles, etc. Since the first actions were carried out, such as the Operation Return to the Motherland Beloved Brazil and Operation COVID-19, FAB personnel from all over Brazil are ready to meet the demands of the country. During these challenging times, FAB continues to work selflessly and is prepared to overcome all obstacles. The war against Coronavirus has not yet ended but as always, Brazilians can count on the FAB for the most diverse and decisive actions in coping with the pandemic. SP. FAB aircraft took vaccines to the most remote points of the country, carried thousands of tons of oxygen for people and transported hundreds of patients.
EDITAL CONCURSOS BRASIL - Aeronáutica abre processo seletivo com pelo menos 269 vagas; Veja como se inscrever
Aeronáutica publica editais de processo seletivo com centenas de vagas para prestação de serviço militar voluntário. Saiba como se inscrever.
Lorena De Sousa | Publicada em 03/07/2021 17:15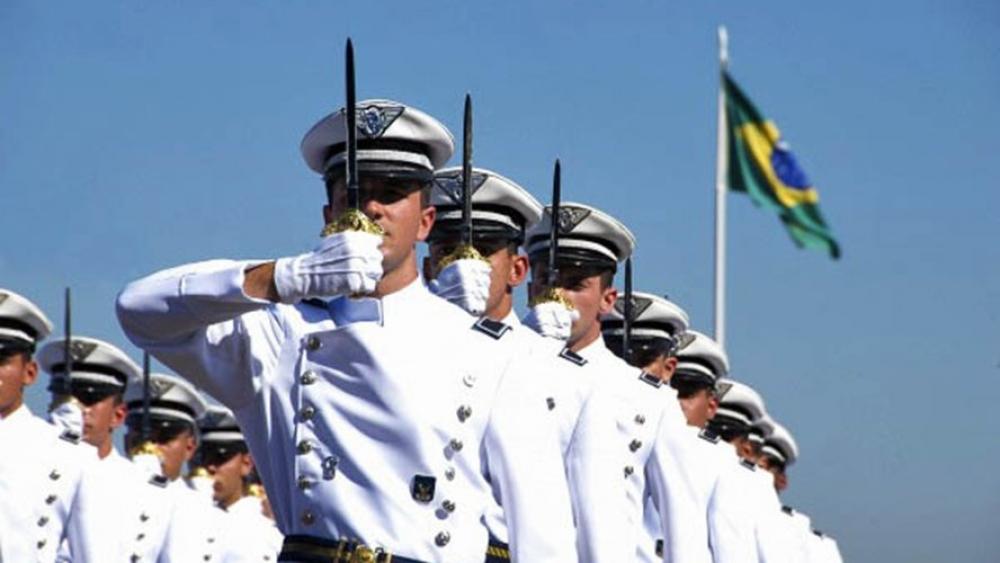 A Aeronáutica publicou quatro editais de processo seletivo para convocação de profissionais de nível médio e superior para seus Quadro de Oficiais da Reserva. São 269 já confirmadas e outras oportunidades que ainda devem surgir para prestação de serviço militar temporário. Veja mais detalhes a seguir.
QOCon TEC 3-2021
Na área técnica, o número de vagas não foi divulgado porque poderá ser modificado ou suprimido a qualquer tempo. As vagas de nível superior são para os cargos de:
Administrador, Analista de Sistemas (várias especialidades), Arquiteto, Arquivólogo, Biblioteconomista, Biólogo, Católico, Contador, Economista, Educador Físico, Enfermeiro, Enfermeiro Auditor, Engenheiro Agrônomo, Engenheiro Ambiental, Engenheiro Cartográfico, Engenheiro Civil, Engenheiro Civil – Analista de Projetos, Engenheiro Civil – Estrutural.
E mais: Engenheiro da Computação, Engenheiro Agrimensor, Engenheiro de Minas, Engenheiro Metalúrgico, Engenheiro de Segurança do Trabalho, Engenheiro Eletricista, Engenheiro Eletrônico, Engenheiro Mecânico, Engenheiro Químico, Engenheiro Sanitário, Engenheiro de Telecomunicação, Estatístico, Evangélico, Fisioterapeuta, Fisioterapeuta Respiratório.
Também há chances para Fonoaudiólogo, Historiador, Jornalista, Museólogo, Nutricionista, Pedagogo, Psicólogo – Avaliação Psicológica, Psicólogo Clínico, Psicólogo Educacional, Psicólogo Hospitalar, Psicólogo Organizacional e do Trabalho, Publicitário, Relações Públicas, Serviço Social, Serviços Jurídicos, Terapeuta Ocupacional e Zootecnista.
QOCon Tec SED
Ja na área de Segurança e Defesa, as 29 oportunidades são para candidatos de nível superior do sexo masculino. O candidato deve escolher entre as especialidades de Armas de Infantaria, Cavalaria, Artilharia, Engenharia e Comunicações.
QOCon Tec MAG
As Forças Armadas também abrem 139 vagas para atuação no Magistério dos ensinos médio e superior. As chances são para graduados em:
Artes Plásticas, Biologia, Direito, Educação Física, Educação Religiosa, Física, Geografia, História, Língua Inglesa, Filosofia, Matemática, Sistemas de Informação, Sociologia, Química, Relações Internacionais, Língua Portuguesa, Língua Espanhola, Administração Pública, Administração e Estatística.
QOCon MFDV
No quadro da saúde, as vaga são para Médicos, Farmacêuticos, Dentistas e Veterinários. Confira as especialidades:
Farmácia Hospitalar, Farmácia Bioquímica, Farmácia Industrial, Medicina – Anestesiologia, Medicina – Cancerologia, Medicina – Cardiologia, Medicina – Cirurgia de Cabeça e Pescoço, Medicina – Cirurgia Geral, Medicina – Cirurgia Plástica, Medicina – Clínica Médica, Medicina – Dermatologia, Medicina – Ginecologia e Obstetrícia, Medicina – Infectologia.
E mais: Medicina de Família e Comunidade, Medicina do Trabalho, Medicina Intensiva, Medicina – Neurologia, Medicina – Oftalmologia, Medicina – Ortopedia, Medicina – Otorrinolaringologia, Medicina – Pediatria, Medicina – Psiquiatria, Medicina – Radiologia e Medicina Veterinária.
Também há vagas para Odontologia – Cirurgia e Traumatologia Bucomaxilofaciais, Odontologia – Clínica Geral Odontológica, Odontologia – Endodontia, Odontologia – Implantodontia, Odontologia – Odontogeriatria, Odontologia para pacientes com necessidades especiais, Odontologia – Odontopediatria, Odontologia – Ortodontia, Odontologia – Periodontia, Odontologia – Prótese Dentária e Odontologia – Radiologia Odontológica e Imaginologia.
Inscrições e provas
Os candidatos serão submetidos a diversas etapas de classificação, sendo elas:
Entrega de Documentos (ED); Validação Documental (VD); Avaliação Curricular (AC); Concentração Inicial (CI); Inspeção de Saúde (INSPSAU) e Avaliação Psicológica (AP); Teste de Avaliação do Condicionamento Físico (TACF); Avaliação Didática (AD), somente para QOCon Tec MAG 3-2021; Concentração Final (CF); e Habilitação à Incorporação (HI).
Os aprovados irão prestar serviço militar voluntário em diversas localidades do país. Para mais informações, acesse os editais do Processo Seletivo Aeronáutica – SMV 2021 clicando neste link.
A CAPA DA REVISTA SP`S AVIATION
Publicada em 03/07/2021 05:59